The Mission
August was an exciting month for the Canadian startup ecosystem. Eight Canadian companies were selected from over forty applicants to embark on a journey through seven tech hubs in four cities in Santa Catarina, Brazil. As part of this experience, the companies had the opportunity to attend Startup Summit 2023. The Canada-Brazil mission, organized by the Catarinense Technology Association (ACATE), was sponsored and promoted by the Brazil-Canada Chamber of Commerce (BCCC) and MITACS.
Kudos to our valued partners, ACATE, for the initiative and MITACS, who made this mission possible!
The Startup Summit 2023
The sixth edition of the Startup Summit took place in Florianópolis, SC, Brazil, from August 23 to 25, 2023. The event, organized by ACATE, SEBRAE (Support Service for Micro and Small Enterprises) and ACIF (Commercial and Industrial Association of Florianopolis), hosted over 200 speakers, 10,000 in-person and 30,000 online attendants across 21 content tracks. The event, now among the main Brazilian meetings of its kind, attracts entrepreneurs from all over the world.
The BCCC Presence
During the entire mission, the BCCC was present with our members, partners and representatives, including:
Peter Hawkins, Co-Chair of the Brazil-Canada Chamber of Commerce – BCCC
Juliano Frohner, Secretary of Foreign Affairs
Marcelo Feth, Secretary of Innovation and Science
Jorginho Mello, Governor of Santa Catarina

Alex Bogos, Co-founder of Driad AI

Ann-Sophie Caron, Co-founder of Habithium

Arnon Melo, president at MELLOHAWK Logistics Inc.,
Amir Omidvar, Founder and CEO of Pocket Clinic
Chanie Perreault and Maxim Montminy, instructors and mentors from Carrefour d'entrepreneuriat et d'innovation at university of Quebec in Trois-Rivier, and
Etienne Gillard, President and Founder of Just Be Fit
Henrique Bilbao, President of ACATE Canada and Founder of IZOK
Mathieu Rivet, Co-founder of Displaid
Raquel Boechat,

 

Founder of Canada StartHub and Co-Chair of the BCCC IST Committee
The Activities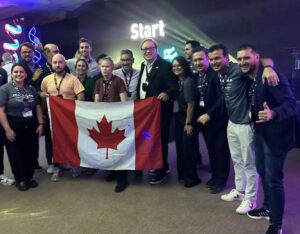 In addition to the busy event schedule, the delegation was also included in the following activities:
A welcome dinner, with pitch practice and coaching sessions

Visits to MIDITEC, ACATE and LINKLAB in the Sapiens Park in Florianopolis, and CIA Primavera, Park CIB Blumenau Innovation Center in Blumenau

A visit to the Oktoberfest park with a lunch hosted by Mario Hildebrandt, the Mayor of Blumenau

Visits to Joinville's Ágora Tech Park and Balneário Camboriú for a celebration and welcome hosted by WTM and ITH International Tech Hub

A tour of Projeto Tamar, a turtle sanctuary
The Outcomes
"The 14 days spent in Santa Catarina have been an extraordinary period of activity for relations between Canada and Brazil. During the Startup Summit 2023, we had the opportunity to meet esteemed institutions in the tech industry, such as COFACE, Instituto Caldeira, Apex and Sebrae. We also strengthened the Brazil-Canada relations during a meeting with the Governor of Santa Catarina, Governor Jorginho Mello, who invited us to move forward with the BCCC and ACATE partnerships. We look forward to working on future projects related to this fantastic experience!"
Peter Hawkins,  BCCC Co-Chair