Think Canada - Global Business Summit
The Brazil-Canada Chamber of Commerce is proud to announce that it has partnered with Think Canada to promote Canada's largest investment summit, scheduled to take place October 19th and 20th, 2016 in Niagara Falls, ON.
Think Canada is a two day business summit with the aim to educate companies on the best practices of doing business in Canada and offer access to an exclusive B2B networking platform, that will allow you to meet with Canadian companies with a national and international scope.
Whether it's Greenfield investment, start-ups, mergers and acquisitions, partnerships or joint ventures, the summit aims to enable foreign investors to tap into vast resources from the public and private sectors in order to better understand the business ecosystem of Canada.
Don't miss this unique opportunity to learn how to expand into one of the world's most diverse and vibrant country and expose your business to the North American market.
REGISTRATION CODE: BCCC2016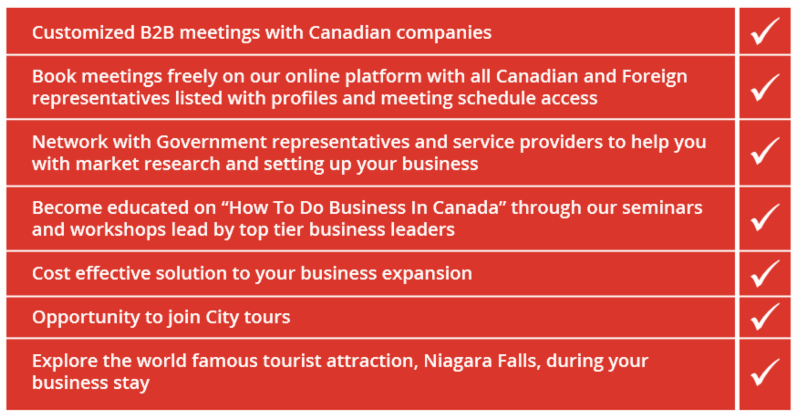 Niagara Falls, ON
Niagara Falls, ON
Canada
2016-10-19
8:00am
Wednesday, October 19th
Networking Breakfast and Lunch Incorporated
---
Market Entry: Picking the Right Place at the Right Time
This panel will discuss opportunities and pitfalls that companies face when entering the Canadian market. Thought leaders, investment experts, and successful foreign investors will provide practical insight into key processes such as site identification, on-the-ground partnerships, and more.
---
Getting Started: Canadian Legal Practices and Regulations
Our legal expert will provide a step by step breakdown of how to establish a legal entity in Canada. Understand which path functions best for your sector and business plan. Have an opportunity to discuss various rules and regulations every entering business should be aware of.
---
The Digital Marketing Age: Developing Your Sales Pipeline in Canada
Understanding your target audience and how to reach them effectively using digital marketing methods accustom to the Canadian market. Learn how to establish and maintain a sales pipeline to ensure your growth in the market.
---
Smart Talent Cultivation: Canadian Human Resource Policies and Strategies
Learn from an industry leader on smart talent cultivation strategy; best practices and lessons learned in attracting and retaining the best talent, and the critical impact on achieving business goals. Gain knowledge on highly personalized solutions aimed at identifying and hiring key personnel to grow your business.
---
Real Estate: An Investment into the Growth of Your Business and Community
This panel will discuss the various opportunities in Canada for real estate and development to understand the vast differences in opportunities from Province to Province. Covering all aspects of real estate from commercial to residential to industrial.
---
Immigration Overview: Coming to Canada
How do you start your move to Canada? When do you start? What documents do you require? What's the best approach for you and your business? Learn from our expert on the immigration process breakdown and how to equip your business in Canada with your company representatives.
Thursday, October 20th
Networking Breakfast and Lunch Incorporated
---
Customized Business to Business meetings with Canadian companies, industry experts, government representatives, service providers and more. Over 500 meetings will take place in one day
Photo Gallery