With 807,750 study permit holders in higher education by 2022 (1), Canada ranks in 3rd place as the top host destination for international students worldwide. With a multicultural environment, the possibility to work while studying and numerous choices from public to private educational institutions, Canada is leading the way among major Western nations.
According to the Canadian government in its recent Economic and Social Report – International Students as a Source of labour supply: A Summary of recent trends, this growth in international student inflows to Canada is likely due to changing reception environments in other major receiving countries, especially in the United States, where the admission of postsecondary international students decreased by 23% between 2016 and 2019. Additionally, the Canadian government and educational sector have implemented concrete measures to attract international students.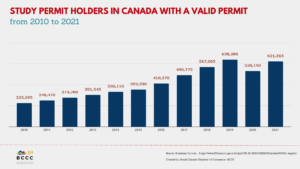 WHAT IS A STUDY PERMIT?
The Canadian Study Permit is a document issued by the Government of Canada that allows foreign nationals (2) to study at Canadian Designated Learning Institutions (DLIs). Most foreign nationals need a study visa to enroll in any program or course in Canada. According to the Canadian Government website, the Study Permit processing time varies by country.
THE IMMIGRATION SERVICES: STUDENT VISA WEBINAR
The Immigration Services: Student Visa Webinar was the second of a series of events organized by the Brazil Canada Chamber of Commerce – BCCC to help individuals and companies to understand the different types of immigration processes available in Canada. The free webinar took place on April 12th, 2023, hosted by Sonia Mirbaha, Principal Partner at SMB Immigration Services, with the notable presence of Rebecca Godinho, an Immigration Lawyer, both experts in the Canadian immigration field.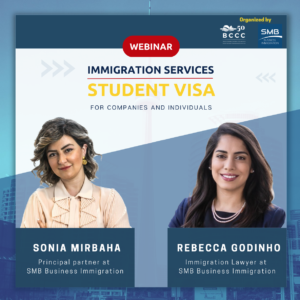 EVENT HIGHLIGHTS
During the event, Sonia and Rebecca explored the following topics:
Application to a DLI and Letter of Acceptance (LOA) – The importance of having an acceptance letter from a DLI in order to apply for a student visa and tips on navigating the process of applying for admission to a Canadian educational institution. 
"Every consulate has different requirements that they're looking for, and that's something, as your representative, we could definitely look into and help you with." – Rebecca Godinho.
How to apply for Study Visa in Canada and the most common mistakes made by applicants – Provided a detailed overview of the application process and the key documents required for a successful application. Common mistakes that applicants make and guidance on how to avoid them.
Working while studying – Possibility of working in Canada as an international student, the requirements for working while studying in Canada and the different types of work permits that are available to international students. They also provided advice on how to balance work and studies effectively.
"From November 2022 to December 2023, whoever has a study permit valid within this duration would be able to work more than 20 hours outside of the campus or off campus. There are certain requirements, and there are certain specifications to it, but essentially if you're a full-time student and if you've got a valid study permit and if your study permit also carries the condition which allows you to work off-campus, then you can actually work more than 20 hours." – Sonia Mirbaha.
Working after graduation: The market and PGWP (Post-Graduate Work Permit) – An overview of the post-graduation work permit program and the eligibility requirements for obtaining a work permit after graduation. They also discussed the job market in Canada and provided tips on navigating the job search process.
Q&A – The event closed with a hot Q&A session as participants asked questions related to the topics covered in the webinar. It was an excellent opportunity for Sonia and Rebecca to elaborate on certain points and provide additional information.
The Immigration Services: Student Visa Webinar is available on our BCCC YouTube Channel.
—
(1) – https://erudera.com/statistics/canada/canada-international-student-statistics/
(2) – Definition of Foreign National by the Government of Canada: A person who is not a Canadian citizen or a permanent resident. See the legal definition of foreign national.
Disclaimer
This publication is provided as an information service and may include items reported from other sources. We do not warrant its accuracy. This information is not meant as legal opinion or advice.
The Brazil-Canada Chamber of Commerce uses your contact information to send you information electronically on legal topics, seminars, and firm events that may be of interest to you. If you have any questions about our information practices or obligations under Canada's anti-spam laws, please contact us at info@brazcanchamber.org..
This publication may be reproduced and distributed in its entirety provided no alterations are made to the form or content. Any other form of reproduction or distribution requires the prior written consent of Miller Thomson LLP which may be requested by contacting newsletters@millerthomson.com.